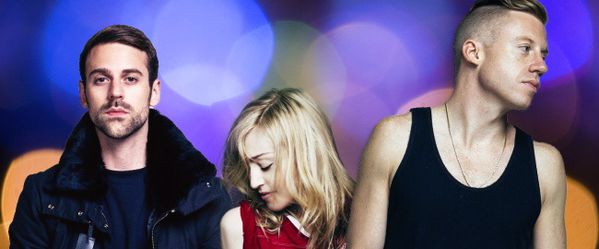 Updating 2 - From New York Times
But the producers behind the program, which is to be broadcast live by CBS at 8 p.m., are hoping that the biggest show-stopper of the night will be a much more solemn event: an on-air wedding of 34 couples - gay, straight, old, young, of many races and many colors. The ceremony will be part of the hip-hop duo Macklemore & Ryan Lewis's performance of their Grammy-nominated song "Same Love", which became a marriage-equality anthem last year just as that issue was drawing intense national attention.
Mr. Lewis, the group's producer, said that the weddings "will be in our minds the ultimate statement of equality, that all the couples are entitled to the same exact thing."
Yet as part of a televised awards show that works hard for its ratings, showbiz will also play a part in this sacrament. Queen Latifah will officiate at the nuptials, and Madonna will join the number with Macklemore, Mr. Lewis and the song's featured vocalist, Mary Lambert.
---
According to US Weekly, Madonna, Macklemore and Ryan Lewis should perfom "Same Love" at 2014 Grammy awards.
Let the fun begin! The Grammy Awards are well known for organizing surprise collaborations between huge artists in the music industry, and this year is no exception. Madonna and Macklemore & Ryan Lewis will be taking the stage together at the Staples Center in L.A. for the 2014 Grammys, sources confirm to Us Weekly.
Madonna who goes by the name Macklemore alongside his producer Lewis, 25 -- will be performing the rap duo's 2013 hit "Same Love." "Same Love" is an anthem for LGBT equality and same sex marriage.
Thanks to MyMDNA for illustration!