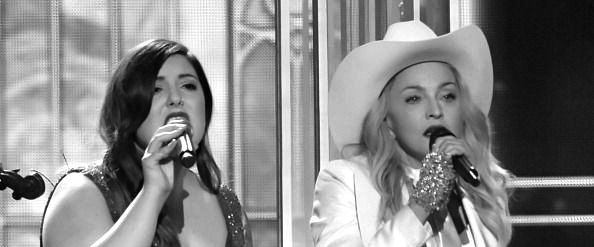 Recently, Mary Lambert acccording interview to Shewired.com. She is having the year of her life -- becoming a part of history at the Grammys, singing with Madonna, and finding new love.
I kind of lost my mind a little for you when I saw that you were singing with Madonna. How was that?
Mary Lambert: Incredible, I mean, what do you do? She's freaking Madonna, and she's singing your lyrics. In rehearsal I was so emotional. How do you not cry? The biggest thing was watching the couples in rehearsal exit, holding hands, they're crying, they're making eye contact, and they are mouthing, "thank you" to me. It was so beautiful.
What was your response when they told you you'd be singing with Madonna?
ML: I freaked out! It was a total freak-out. I'm really analytical, so I wanted to be sure that it made sense conceptually and that it makes sense for the song. I thought about it and I was like, "This is the best possible thing that we could have done." She was the right person for it.
The whole performance was so emotional. People in the audience were crying, people at home were crying. I realize you are an artist and you have to compartmentalize but that seemed like an extraordinary scenario under which to keep it all together.
ML: You have no idea. In the rehearsal leading up to it I couldn't get through the song. I was just so choked up. The day before I had cried for about 10 hours straight. I couldn't keep it together, and I even took my bipolar medication that day (laughs). I was just really, really emotional about it. And, Madonna wiped my tears… She was really sweet to me.
Madonna wiped your tears? I love that.
ML: Everyone was really nice to me. But the day of the Grammys… I'm a performer, that's what I do. That's what I was born to do and you have to be on the whole day, especially during the red carpet doing press.
You've now sung with Jennifer Hudson and Madonna. Who's next on your list of legends who'll sing with you on "She Keeps Me Warm?"
ML: I've topped out.