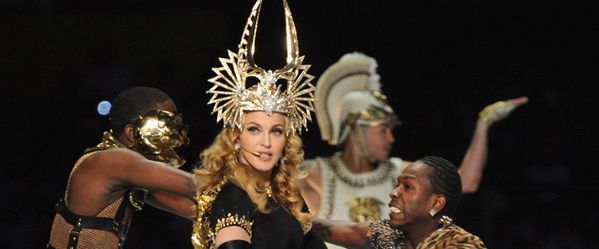 According to Billboard, Madonna's Performance is number 3 of 10 Best Super Bowl Halftime Show! What do you think?
Riding a huge buzz for her then-forthcoming album "MDNA," Madonna charged into her Super Bowl XLVI halftime performance as the quasi-gladiatorial captain of a cheerleading squad that included LMFAO, Nicki Minaj, M.I.A., and Cee Lo Green. Amid Roman soldiers, Madge entered the field on a golden throne to belt out longtime favorite "Vogue" before being joined by LMFAO for a "Party Rock Anthem"/"Sexy And I Know It" infused take on her 2000 hit "Music."
Sure, the Material Girl slipped a bit while dancing in those thigh-high heeled boots, but her Super Bowl gig's most talked about moment when M.I.A. and Minaj joined her for new single "Gimme Your Luvin'." It happened fast, but everyone watching at home certainly saw M.I.A.'s mischievous middle finger. However, Madge's epic "Like A Prayer" finale, aided by Cee Lo and large robed choir, ensured that the 12-minute spectacle ended with the focus right back on the music.