Premium network EPIX will premiere Madonna's MDNA tour – an EPIX Original Concert Event, on June 22 at 8:00 pm ET.
The show will be broadcast entirely, 2 hours !
Premium network EPIX will premiere Madonna's MDNA tour – an EPIX Original Concert Event – on June 22 at 8:00 pm ET. One of the most spectacular and controversial extravaganzas of 2012, Madonna: the MDNA Tour was filmed primarily in Miami as well as other locations. The MDNA Tour was the most successful and highest grossing tour of 2012 and was seen by over 2.2 million Madonna fans during the course of the 88 sold-out shows around the globe. The concert includes performances of several of her biggest hits including "Vogue", "Like A Prayer" and "Hung Up." She also performs songs from her MDNA album including "Give Me All Your Luvin'," "Girl Gone Wild", "Gang Bang" and "Turn Up the Radio." The album debuted at No.1 in over 30 countries. Madonna, along with her seven member band, outstanding troupe of 27 dancers (all clothed in 1500 costumes) and state of the art visuals and sound electrified crowds around internationally with what the Material Girl termed "the hardest but most thrilling and challenging show I've ever done."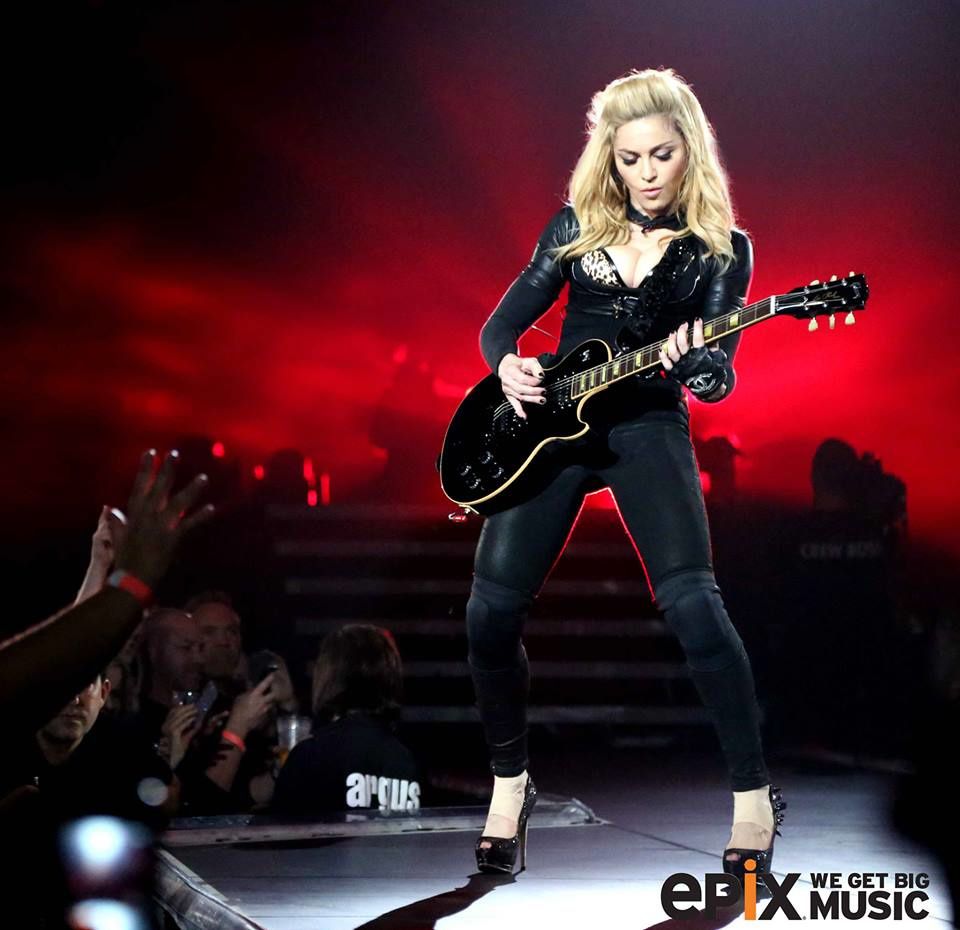 In describing the show's intent, Madonna concluded…
"My show is a journey… the journey of a soul from darkness to light. It is part cinematic musical theatre – part spectacle and sometimes intimate performance art. It is journey from anger to love and from chaos to order. There are good guys and bad guys to help illustrate this point. Sometimes I play both. It must be watched with an open heart from beginning to end. I am sure if it is viewed this way, you will walk away feeling inspired, invigorated and will want to make the world a better place."
EPIX CEO and President Mark Greenberg commented…
"Madonna's stunning musical performance and show-stopping moves continue to prove that she is truly a timeless entertainer. We launched the EPIX network with Madonna's previous tour, Sticky and Sweet, premiering the concert the first night that EPIX was on air. We are very excited to have her back on the network."
The MDNA Show was directed by Danny Tull and Stephane Sennour. Tull has worked with Madonna editing previous shows and her feature film W.E.
Video Teasers...
If you are in the US and don't get the channel, EPIX will be offering a free preview of their service...
"We are excited to announce our next Free Preview Weekend starts on June 21st! Join us from June 21 through June 23 for an all access pass to EPIX.During the Free Preview weekend, catch the world premiere of Madonna: The MDNA Tour and Sherri Shepherd: It's My Time to Talk:
http://www.epixhd.com/madonna-the-mdna-tour/
http://www.epixhd.com/sherri-shepherd-its-my-time-to-talk/
Don't have EPIX? Stay tuned for more info about signing up for a free trial as we get closer to the event! As an added bonus, all expired free trials will be reopend for this wekend only."
This means you can head over to EPIXHD right now and sign up for a free 14 day trial. There you can watch the broadcast streaming with their video-on-demand service, http://www.epixhd.com/devices/
You aren't limited to watching the preview on your computer though! EPIX offers a variety of apps that will allow you access to all their streaming content. The networks offers apps for handheld devices such as the iPhone, iPad, iPod Touch, Android devices and the Kindle Fire. EPIX also offers apps that allow streaming on your TV! If you have a Google TV, Playstation 3, Roku, or Xbox 360 you'll be able to watch the stream right at 8pm through your home theater system.