Christie's auction house in London is selling a few Madonna items on June 26th 2013 to "Pop Culture Auction" !
'Don't Bungle the Jungle' Jeans
A pair of Levi Strauss & Co. cut-off jeans, with hand-painted design by Leslie Hamel, the inside waistband hand-signed Leslie Hamel, Los Angeles, additionally annotated in black felt pen on the left leg with a doodle of a dancing man by Keith Haring and signed K. Haring xxx, the jeans owned by Madonna and worn by her on various occasions, 1989-1990, including onstage during a benefit evening Don't Bungle The Jungle, Brooklyn Academy Of Music, New York, 24 May, 1989, when she appeared on stage with Sandra Bernhard to sing a rendition of I Got You Babe.
Estimate:
# £6,000 – £8,000
# ($9,054 - $12,072)

Madonna Naked by Bill Stone
Madonna naked by Bill Stone. Cibachrome print, 1979, signed and dated in orange ink by the photographer Bill Stone, 1979. 15½x22½in. (39x57cm).
Estimate:
# £1,000 – £1,500
# ($1,509 - $2,264)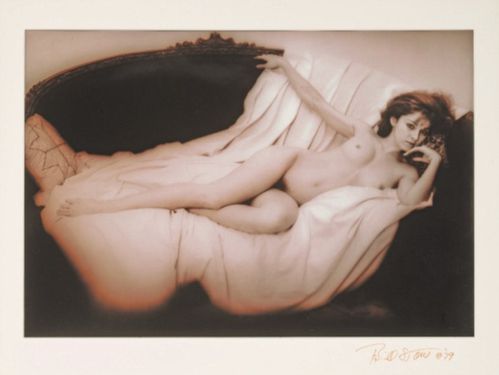 Dolce & Gabbana Shoes for the Girlie Show Tour Book
A pair od black Dolce & Gabbana platform shoes, the gold insoles with Dolce & Gabbana label, both labels inscribed in black felt pen MO, worn by Madonna for a photographic shoot by Herb Ritts for publicity purposes for the Girlie Tour, 1993.
Madonna can be seen wearing an identical pair of shoes in a photoshoot by Herb Ritts and on the front cover of the Madonna Girlie Show tour book, 1993.
Estimate:
# £3,000 – £5,000
# ($4,527 - $7,545)