Keith Haring ventured to New York City in '78 to study at The School of Visual Arts where he formed a close group of friends who bonded through a shared untraditional, uninhibited lifestyle that thrived in the chaos of the city. The group consisted of graffiti artists, musicians, and performance artists who frequented counterculture hangouts like The Mudd Club, Paradise Garage, and Club 57. Keith organized art shows at the Mudd Club and he would often perform at Club 57, showcasing his own videotapes, reciting poetry, exhibiting art, and dancing to hip-hop while enjoying the sexually charged scene. Keith's friend, Kenny Scharf said, "At Club 57 there were drugs and promiscuity—it was one big orgy family. Sometimes I'd look around and say, "Oh, my God! I've had sex æwith everybody in this room!" It was just the spirit of the times—and it was before AIDS".
While juggling the demands of school and friends, Keith made some money working as a busboy at Danceteria, the same place where Madonna worked as a coat-check girl in the early 80's. Keith recalled, "Everything was very exciting – living in Greenwich Village, having my own apartment and going to school. And it was great meeting Kenny Scharf and Jean-Michel Basquiat, who became my friends and also wanted to become artists."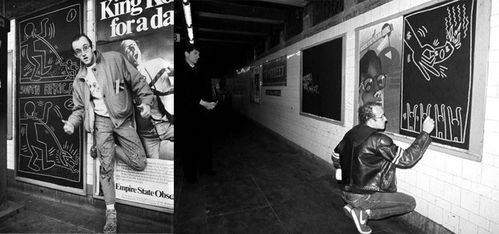 In 1980, Keith took his drawings to the streets using white chalk on unused advertising panels hung along the subway walls. "I kept seeing more and more of these black spaces, and I drew on them whenever I saw one. Because they were so fragile, people left them alone and respected them; they didn't rub them out or try to mess them up. It gave them this other power. It was this chalk-white fragile thing in the middle of all this power and tension and violence that the subway was. People were completely enthralled." said Keith.
He was an active artist, covering as many as 40 panels within a day while he openly engaged with the public, maintaing a hint of incognito to avoid arrest but always connecting with onlookers who asked questions about his work. "The drawings were quite simple – pyramids, flying saucers, human figures, winged figures, television sets, animals, and babies. Soon the baby with rays all around it became a kind of signature, and the people of New York who rode the subways began recognizing these drawing, although they had no idea who made them." said Keith.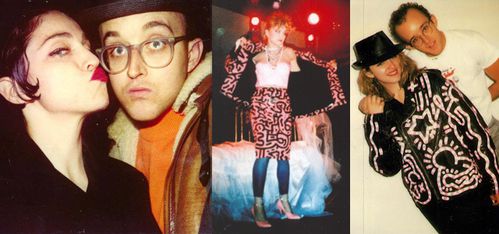 "We were two odd birds in the same environment," remembered Madonna. "I watched Keith come up from that street base, which is where I also came up from. I've always responded to Keith's art. From the very beginning there was a lot of innocence and a joy that was coupled with a brutal awareness of the world. The fact is, there's a lot of irony in Keith's work, just as there's a lot of irony in my work. And that's what attracts me to his stuff. I mean, you have these bold colors and those childlike figures and a lot of babies, but if you really look at those works closely, they're really very powerful and really scary."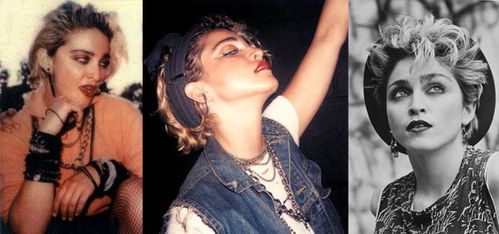 In '77, Madonna dropped out of her studies at the University of Michigan and moved to New York City to pursue a dance career that allowed her to perform at the American Dance Theatre. Rebelling from her strictly religious upbringing, Madonna frequented New York's underground dance clubs with a diverse group of gay friends who ushered her into the city's sexualized, artistic atmosphere. Madonna picked up odd jobs to pay rent until she met boyfriend, Dan Gilroy, who led an underground ska-punk band called The Breakfast Club.
Shortly thereafter, Madonna and Dan moved to France where Madonna worked briefly as a showgirl, a gig which helped affirm her love for performance. Once back in New York City, Madonna formed several bands and eventually became lead singer of her boyfriends band, The Breakfast Club. Madonna officially went solo in '81 when she hired a manager who helped release her first hit, "Everybody", which hit number one on the dance charts in '82.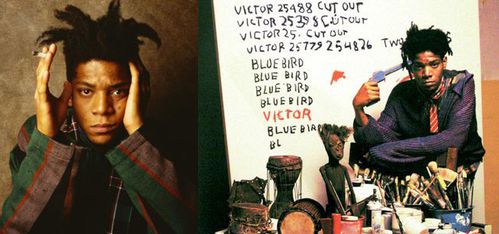 Jean-Michel Basquiat grew up in a decent household, but at 15 he fled to the streets of Brooklyn where he became a young, starving artist. He looked like a Caribbean street rat, making little money by selling homemade t-shirts and postcards while he crashed at various friend's apartments. Jean-Michel initially got recognition in the city streets by tagging edifices with clever messages using the graffiti name, SAMO. Recognized as SAMO, Jean-Michel was a featured guest on a public access program called TV Party which showcased Brooklyn's young, artistic, counterculture crowd.
After making regular appearances on the show, the host of TV Party, Glen O'Brien, chose to feature Jean-Michel to star in his independent film, Downtown 81. Inspired by Andy Warhol's films, Downtown '81 relied on its actors to play themselves as characters, forgoing a scripted storyline. In describing the film, Glen said "Penniless, Jean-Michel was kicked out of his apartment, then tried to sell his paintings for daily income. He showed up at clubs and tried to pick up girls to go to her apartment to have someplace to sleep. Basically, it was based on his real life…". Blondie's Debbie Harry co-starred with Jean-Michel in Downtown 81, and after the film was shot Debbie featured Jean-Michel as a disc jockey in her music video, Rapture.
As Jean-Michel established a growing circle of influential friends, he gained recognition as an artist and received more opportunities to show his work. His paintings were primitive and unique, using text and child-like drawings to call out cultural issues, intentionally crossing out text as a way to draw more attention to it. Jean-Michel's paintings immediately drew in rave reviews from peers and critics, helping quickly establish Jean-Michel as a young genius sought after by art dealers and celebrities alike.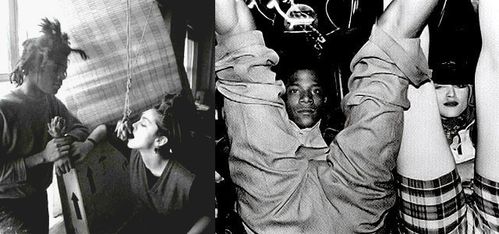 Jean-Michel spent his money quickly and lavishly, buying dozens of Armani suits, expensive dinners, vacations, cocaine, and hiring a chauffeur to drive him around the city. Keith Haring said Jean-Michel's spending was his "way of sticking your nose up at people who were looking down on you…Being black and a kid having dreadlocks, he couldn't even get a taxi. But he could spend $10,000 in his pocket." As an attractive, young artist whose look, lifestyle, and fame drew in growing attention, Jean-Michel had an easy time picking up the ladies.
Though going out with long time girlfriend, Suzanne Mallouk, Jean-Michel had a brief affair with Madonna in 1982. Once Suzanne found out about Jean-Michel's relationship with Madonna, Suzanne got in a physical brawl with Madonna at the Roxy. As Jean-Michel communicated everything he experienced through painting, he created a piece that showcased the infamous catfight, referring to Suzanne as Venus and crossing out Madonna's name in typical, Jean-Michel fashion.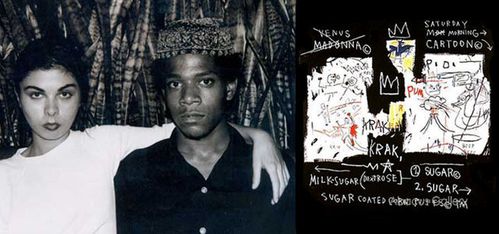 Before Jean-Michel struck fame, he had run into Andy Warhol one or two times through incidents that left little impression on Andy. In fall of '82, Jean-Michel was brought to The Factory and introduced to Andy by German art dealer, Bruno Bischofberger. Bruno continually brought new artists to The Factory, a ritualized event where Andy created a portrait of the artist in exchange for a piece of their art. In this way, Andy maintained a connection with younger artists who kept him in touch with emerging trends and celebrity youth.
Using photos as base for his portraits, Andy shot Jean-Michel with his Polaroid camera, after which Jean-Michel asked if he could also take a photo of Andy. As customary in the ritual, Andy took Jean-Michel next door to enjoy a lunch buffet, but Jean-Michel hurriedly said good-bye and ran off without eating. About an hour and a half later when Andy and Bruno had hardly finished their lunch, Jean-Michel's assistant entered the restaurant with a 60"x60" canvas featuring a double portrait of Andy and Jean-Michel, the paint still wet. In reference to Jean-Michel's portrait Andy said, "I'm really jealous- he is faster than me."
Andy returned the gesture by silkscreening Jean-Michel's portrait on several equally large canvases, after which Jean-Michel produced another two portraits of Andy in '84, one of which depicted Andy as a banana.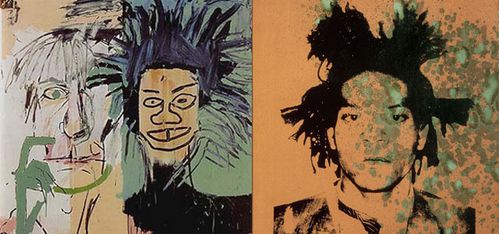 "It was like some crazy-art world marriage and they were the odd couple. The relationship was symbiotic. Jean-Michel thought he needed Andy's fame, and Andy thought he needed Jean-Michel's new blood. Jean-Michel gave Andy a rebellious image again." said Ronny Cutrone. In fall of '83 Jean-Michel rented a loft at a property that Andy owned, creating a proximity which led to a close friendship and many talks of collaboration between the two. In '84 Jean-Michel and Andy created a collection of work that was curated in the Tony Sharfrazi gallery.
Together Andy and Jean-Michel created large paintings, generally painting over each other's work to produce diptych collages that represented their opposing styles. Though the collaboration created quite a stir, critics were less than impressed. The highly competitive Jean-Michel held bitterness towards Andy for the collection's unfavorable reviews, and he drew distant from Andy as result from a growing paranoia that people were beginning to view him as Andy's mascot.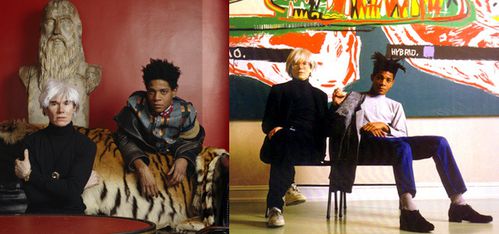 From '81 onward Keith's career gained a lot of momentum, starting with a solo show in New York which led to international exhibitions, public murals, design collaborations, and an animated billboard in Times Square. Already established as a high demand artist, Keith was constantly producing more work with the intention of making his art easily available to the public.
Keith and Andy met at a gallery exhibition in '83 after which Andy became Keith's mentor and close friend. Keith and Andy were similar in many ways, both queer artists who embedded themselves in large circles of influential celebrity friends. Andy had founded Interview, a large format magazine that he originally circulated in '69 among the artsy, celebrity crowd that he ran with. Each issue featured newly emerging stars revealed through intimate conversations with artists, musicians, and other individuals who had a direct influence on pop culture.
Many of these influential celebrities came together at The Paradise Garage in '84 for Keith's 26th birthday party. With Andy in attendance, Keith's longtime friend, Madonna, got on stage and performed "Dress You Up" wearing a pink jacket covered in Keith's bold, black marker drawings. A year later in '85, Madonna married actor, Sean Penn, in a star studded wedding. Being a good friend of Madonna's, Keith was invited to the wedding and chose to bring Andy as his date. Keith and Andy collaborated on a paparazzi-inspired art piece for Madonna's wedding, and in the same year Andy put Madonna on the cover of Interview.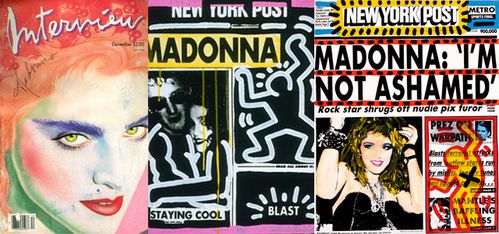 In February of '87 Andy developed a pain in his right side and subsequently went to the hospital for a gallbladder operation. To everyone's surprise, Andy died in the hospital the morning after his operation from an unexpected heart attack, unrelated to his surgery. Andy had helped dissuade Jean-Michel from his drug use, but when Andy died not only did Jean-Michel lack his positive influence but Jean-Michel also became extremely depressed dealing with the death of his close friend.
After Andy's death, Jean-Michel became quite reclusive, producing many paintings and using more heroin. "One knew from the start that he was going to live out his own time span," Henry Geldzahler said. "He lived very high, very fast, and he did a lot of great things." Only 27 years old, Jean-Michel died of a drug overdose in his Manhattan apartment in August of '88.
That same year, Keith was diagnosed with AIDS which led him to establish the Keith Haring Foundation in '89 to provide funding, imagery, and inspiration to AID's organizations and children's programs. Keith worked up until his death, showcasing his drawings to the public and speaking openly about his own illness to help bring activism and awareness to AIDS. A young artist who died at age 31, Keith participated in over 100 exhibitions throughout his career.
Source: Devonstonebrook