Fourth creation about Art Exibition
Madonna Show Burlesque
"British Diva"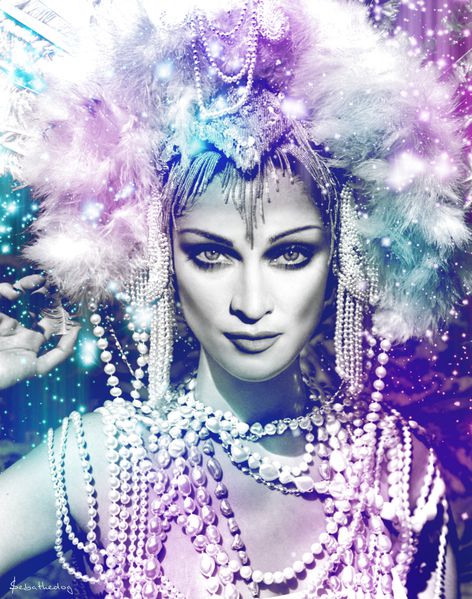 Cliquez sur la création
Enlarge the creation
Histoire
Madonna, en 1848 sous le règne de la reine Victoria, avant de monter sur les planches pour l'avant-première du premier cabaret anglais; The Canterbury Hall. Elle revient des Colonies indiennes anglaises avec des pièces uniques pour ses costumes. Elle arbore ici de nombreuses perles rares. Elle représente dans ce show burlesque à la fois une princesse Inca mais aussi une princesse indienne aborant les plus rares étoffes artisanales tribales de cultures ancestrales qui se trouvent dans les ethnies les plus reculées d'Asie. Le show sera unique et Madonna transportera son show burlesque dans toute l'Europe, notamment en France et en Russie à la cour des Tsars.
History
During the reign of Queen Victoria, Madonna in 1848 before getting on stage for the premiere of the first English cabaret; The Canterbury Hall. he returns the Colonial Indian English with unique pieces for their costumes. It features many rare gems here. It is in this burlesque show both an Inca princess, but also an Indian princess wearing the rarest fabrics tribal crafts of ancient cultures that are in the most remote tribes of Asia. The show will be unique and Madonna carry her burlesque show in Europe, including France and Russia at the court of the Tsars.